Temporary Aviation Charges Measures
We are pleased to share the latest temporary aviation charges measures related to the Coronavirus (COVID-19). Through these challenging times, the ACIC & IATA teams worldwide work to collect information on airport and ANSP charges. This database is updated daily to bring you the latest available information.
Not seeing your country or airport measures? Email us at aviationchargesIC@iata.org.
If you want to receive notifications on the latest changes, click here.
For more information about ACIC visit www.iata.org/acic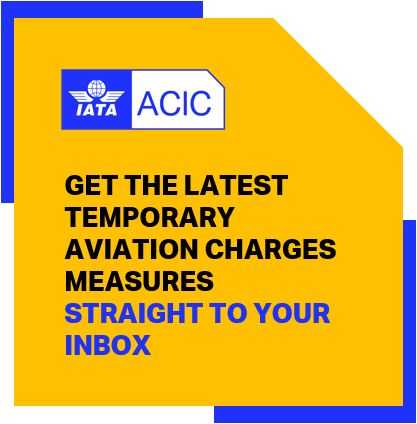 NOTE: The information is correct to the best of IATA's knowledge at the time of publication and is being reviewed and updated on an ongoing basis by IATA staff, given the rapidly evolving nature of the international response to the COVID-19 outbreak IATA cannot guarantee its accuracy and can accept no liability for any errors or omissions. IATA reserves the right to add or change information at any time. Links to third party websites of third parties are offered as a courtesy. IATA expresses no opinion on the content of the websites of third parties and does not accept any responsibility for third-party information. You should make your own independent inquiries before relying on any information or materials contained on these pages.
© 2020 IATA. All rights reserved. Information sourced and provided by IATA.